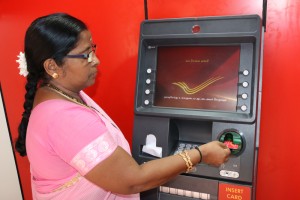 A postal ATM (Automated Teller Machine) was opened at the post office at Kutchery Road, Mylapore earlier this week. Here are a few pointers for account holders and those who wish to open an account and get these benefits –
1. The ATM can be accessed by customers who have a post office savings bank account postal debit card.
2. A postal debit card can be acquired by submitting an application along with ID and address proof.

3. It takes about 2 days to get the debit card once the application has been submitted.
4. A post office savings bank account can be opened with a minimum balance of Rs. 50.
The post office plans to extend this facility to bank accounts too. Soon, residents can use these ATM's to withdraw money from any bank account. A proposal has been submitted to the Reserve Bank of India for this purpose.
The post office is located at 45, Kutchery Road (near Jain Temple), Mylapore. Ph: 24642805.