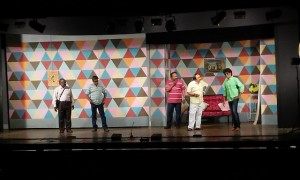 Kartik Fine Arts' Kodai Nataka Vizha closed on May 3 with the staging of Augusto's 'Jeyitha Kudirai.
The story is of a hardware shop owner and who knows a little of plumbing work, who comes to the city from his village with the hope of acting in TV serials. He becomes successful in getting a villain's role in a popular TV serial.  At the height of his popularity he quits acting.
Then comes the news that the lady E.O. of his village temple is murdered in order to avenge her severe action against the top 10 defaulters of rent of the temple property.  The hero is one among them as the land of his hardware shop belonged to the temple. The channel crew and the police suspect the hero to be the murderer.
The drama takes twists and turns and ends up with a message to conserve water!
Augusto says the story was based on a real life incident in New York.
The play was slow and dragged on till 9.15 p.m.. Pothilingam, who played the producer of the TV serial carried the play through with his downplayed acting.
– Report, photo by V Vasantha