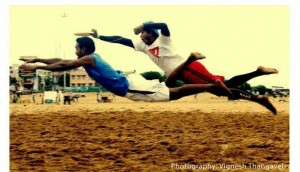 Long time resident of Mylapore – Anusha Ramesh is one of the organisers of the Ultimate Frisbee summer camp to be held at Elliots Beach, Besant Nagar this May.
Ultimate Frisbee is a non – contact, mixed gender team sport which can be played by men and women of all ages. The camp will cover the basics – throwing, catching and the rules of the game. At the end of the camp, the participants can take part in an informal tournament.
Anusha, who started off as a newcomer five years ago, will now be one of the coaches at this camp. She says, "We have about seven teams playing in Chennai. These teams take part in various competitions held all over the country. The camp is an entry point for frisbee players. Interested participants can join teams to pursue this sport seriously".
The camp will be held for five weekends from May 9 to June 7 at Elliots Beach, 6 a.m. onwards. The Agni Nakshatra tournament for the participants will be held on June 6 and 7. There is no fee to register for the camp. For details contact 9500081262.