These are obituary notes on neighborhood residents who passed away the past few days –
–
 Vaigal S. Gnanaskandhan passed away on May 3 night. He was a resident of 8A Block II, Rani Meyyammai Towers, MRC Nagar, R A Puram.
Gnanaskandhan was born in 1934 in the Tanjavur district. He was a B.Music degree from Annamalai university. He was passionate about music and was a disciple of veteran musicians like Semmangudi Srinivasa Iyer and Dhandapani Desigar. To honor his prowess in his field, he was awarded the title "Sangeetha Bhushanam" from the Late Raja Sir Muthiah Chettiar.
He joined the All India Radio in 1964 and moved to Appu Street in Mylapore. He worked at AIR till his retirement as Music Producer.  After his retirement, he started "Gnanaskandhan Trust" and was passionate in promoting upcoming  young talents in Carnatic Music.  He had a wide range of sishyas starting from the age of 6 to 60 years and some of the eminent musicians in carnatic music circles were his disciples like Sikkil Gururcharan, V. Sankaranarayanan and Gayathri Girish.  He was supported in his efforts by  swami Haridoss giri, Krishnaswamy – Secretary Narada Gana Sabha and N. V. Subramaniam of Saraswathi Vaggyekara. He is survived by his daughters, grand children and great grand children. Contact his family at 9952038444
– V. Subrahmanyam, a resident at 9, Justice Sundaram Road, Mylapore passed away on May 2. Contact – 24996223, 9884711829.
–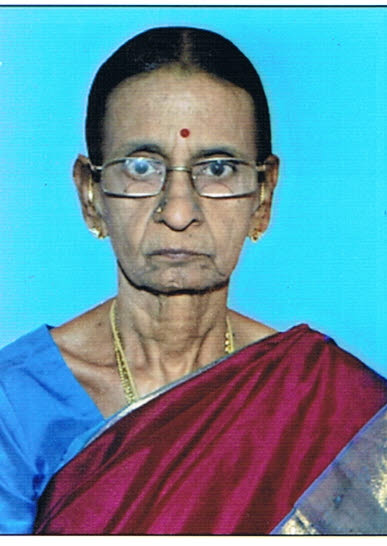 S. Kalyani of Mylapore passed away on May 3. She was 69. She was a resident of San Thome for more than 31 years.
Here is a tribute to her from her husband N. G. Subramanian.
Kalyani was born in Tiruchi district near Sozhavandhan. She completed her high school education there. Upon completion, she saw a notice that the Diploma in Civil Engineering was open to women for the first time that year, and she applied for it with interest. Such was her enthusiasm and her strength, that she passed out of the course with a State first rank in that field, in 1967.
She started her career working for Dina Malar. Then, with her diploma, she applied for a job with the PWD department. She started out as a tracer and rose up the ranks in the department steadily, till she retired as Chief Head Draftsman.
Such was her skill that she could draw plans for building houses, laying water works and even do estimations of budget for the plans by the time she retired. What is more, she could do this in Tamil too !
She retired from her job in 2004. She was diagnosed with ovarian cancer in 2007. It was only her extreme will power and strength of mind that helped her with stand the intense treatment of 89 chemo sessions – 22 IV treatments and 67 oral treatments administered by the doctors at Apollo. She passed away on May 3.
Her life is a story of her mental strength and will power.
– Kalyani is survived by her husband, 1 son, 2 daughters. Contact her family at 9940321141, 24937135.
======
<< You can share Obit notes/Tributes with this newspaper. Photos may be shared too. – mytimesedit@gmail.com