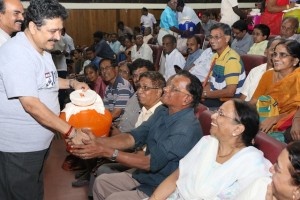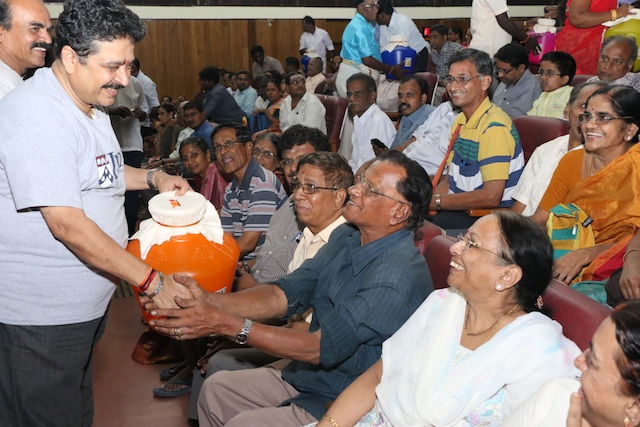 Actor-politician S Ve Shekher staged his popular play 'Yaam Irukka Bhayam Ean' at Narada Gana Sabha on May 12 evening to raise funds for people affected by the quake in Nepal.
The play started with an introduction by Shekher. He announced that the artistes and the back stage people would come and collect the donations from the audience during the interval.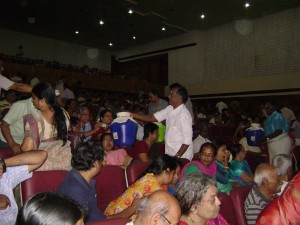 People dropped their donations in the form of cash and cheque in the plastic 'kudams' brought by the drama crew.
The play was a comedy and was enjoyable.  Shekher was delivering 'on the spot dialogues' on trends in the society now and then… (The co-artistes had to adjust whenever Shekher went out of the way).
After the play the collections were announced. Cash and cheques totaling Rs.1.84 lakhs was collected. Apart from this, one Jaya Sinivasan had given Rs.1.00 lakh and one Rajan had given Rs. 62,000.
Shekher's troupe Natakapriya contributed Rs. 25,000, Narada Gana Sabha gave Rs. 10,000 and Kartik Fine Arts, Rs.10,000.   Shekher said he would round off the sum and give a donation of Rs.5 lakhs.
Shekher runs a Trust that also helps to dispose abandoned dead bodies and host eye donation camps. Call him at 9841023545
– Report by V.Vasantha. Photos by Vasantha, Madan