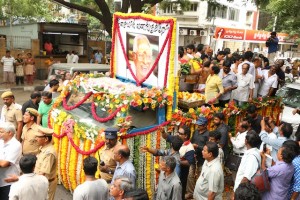 Family, fans and people big farewell this morning to celebrated film music director M S Vishwanathan who passed away yesterday morning- the funeral procession began at about 10 a.m. from the San Thome De Monte Road residence. The body of MSV, as he was fondly called across the world was placed on a lorry decked with lots of flowers. A large portrait of the artiste was set up at the head of the lorry.
While close associates and relatives stood around the coffin, fans and people walked alongside as the procession went down San Thome High Road.
The final rites will be done at the crematorium in Besant Nagar later this morning.
Through yesterday, scores of people from the film world and outside headed to MSV's home to pay their respects.