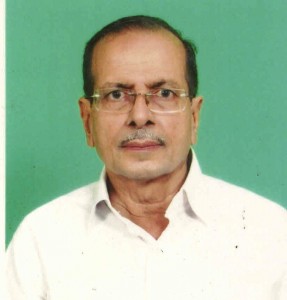 V. R. Vasudevan expired on August 7, 2015. He was born in Mylapore and grew up here and spent his last days in his ancestral house in Nattu Subbarya Street., Mylapore.
His son, Dr. Karthikeyan Vasudevan, senior principal scientist at Centre for Cellular and Molecular Biology
162 Pillar, Hyderabad shares details of his father in this tribute –
Born to Dr. V. Raghavan and Meenakshi Ammal in 35, East Mada Street, Mylapore, ( the place where Bharatiya Vidhya Bhavan stands today] as the last amongst five offsprings on 12.11.1942, Vasudevan grew up with two sisters and one brother in Mylapore.
With a physician father and an extremely pious mother who had all the household chores and more, he was largely left to himself. He suffered from jaundice as a child and prolonged illness related to the liver.
He was in awe of his elder brother who had by then gained high academic accolades and also a prestigious job in the Government of India. Vasudevan studied in P.S. High School [North], Mylapore which was founded by his maternal great grandfather – Penathur Subramaniya Iyer.
Here he had a group of friends and his school lessons to engage with. He was an industrious and a bright student and completed all his school studies without much attention from his family members.
His mother and eldest sister [ Lakshmi ], who participated in the freedom movement, instilled nationalistic fervour in him. After completion of schooling he joined Government College of Technology (GCT), Coimbatore for a course in bachelor of engineering (civil) in 1960. One of the projects that the students of his batch undertook during the course with their professors was laying a concrete road from Mettupalayam to Coimbatore. They laid parts of the road that stood the test of time for more than 50 years.
He worked in a sugar factory in Alanganalloor as a site engineer and then with Central Public Works Department in Chennai as Assistant Engineer. He then got selected for the Indian Railway Stores Service as Class I officer in 1967. He married Vimala, daughter of Dr. C. Seetharaman.
He was posted in different capacities in Tiruchy, Mysore, Pothanur, Chennai, Kolkata, Delhi, Vizag. He enrolled for bachelor of general law from Madurai Kamaraj University and completed it in 1993. He felt that his achievements were not given due recognition in the organisation and he retired voluntarily on 11.11.1999 as Chief Materials Manager, Southern Railway.
It was a tough decision for him, because he loved the organisation. He then registered Vasavi Trust on 11.04.1994 with his family members as trustees. It began with a modest amount of Rs.1001.  It has grown since then and it has reached out to more than 450 individuals in a span of 15 years, transforming their lives in both small and big ways.
He served as an important functionary in P. S. Charities and as Correspondent of P.S. High School [North] for 5 years, and caused a sea change in the school's academic record. He served as honorary treasurer of Family Planning Association of India, Tamil Nadu chapter.
Having been diabetic for more than 35 years with a weak and damaged liver, his health deteriorated fast after 2014 and he passed away on August 7, 2015.
He is survived by his wife Vimala and sons Subramaniam and Karthikeyan
Contact – 9491036403