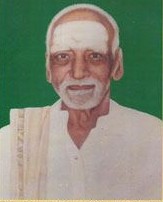 Several events have been organised to celebrate the 125th Jayanthi Mahotsavam and 43rd Ninaivanjali of musician and singer Papanasam Sivan. The first – an Akanda Gaanam on his compositions will be held on Sep 20 from 9 a.m. – 9 p.m. at Arkay Convention Centre, R. H. Road, Mylapore.
The event will be inaugurated by musician P. S. Narayanaswamy, felicitations by V. V. Sundaram at 8.30 a.m. Several noted artistes including Bombay Sisters, Dr. Rukmini Ramani, Suguna Varadachari and Gayatri Girish will take part in this event. Guru T. V. Gopalakrishnan is the chief guest at the valedictory function to be held in the evening at 8.15 p.m.
The second event will be held from Sep 26 -28 at Narada Gana Sabha, Alwarpet. Dr. Nalli Kuppusami Chetti will inaugurate the event on Sep 26 at 5 p.m. and he will confer the title of 'Sivan Isai Selvi' on vocalist Seetha Rajan.
A souvenir will be released by V. K. Sundaram, the chairman of Sudharshan Group of Educational Institutions. The first copy will be received by M. Krishnamurthy, secretary, Sri Parthasarathy Swami Sabha. A dance drama by disciples of Anitha Guha will follow. On Sep 27 and 28, several noted vocalists S. Sowmya, Sanjay Subramanyan and T. M. Krishna will perform in the evening at the same venue.
The celebration will continue at P. S. School, Mylapore on Sep 29 and 30, 5 p.m. onwards. Co-sponsored by PS Institute of Art and culture, vocal performances will be given by Seetha Rajan,  Gayathri Venkataraghavan, Neyveli Santhanagopalan and several others.
On Oct 1, the valedictory function will be held at Bhavans, Mylapore. The programme will start off with a 'Ninaivanjali'- a rendering of Sri Ramacharitha Geetham by 150 participants followed a talk by the chief guest L. Sabaretnam, chairman, Bharatiya Vidya Bhavan, Chennai Kendra.  Later a live performance (with orchestra) of Papanasam Sivan's film songs by popular playback singers will be conducted by Subhasree Thanikachalam. 4.50 p.m onwards.