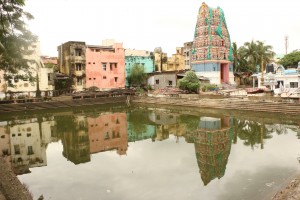 Tanks of temple tanks in this area are filling up following the exceptionally high rainfall in a short period.
Here is a picture of the tank of  Sri Virupaksheeswarar Temple, Mylapore taken this morning. The level has been rising slowly. The tank is among three large temples in this area off Bazaar Road area.
Water has also risen in the tank of Sri Kapali Temple. It has been less in Chitrakulam – political activists here say that the rainwater drains that lead to the tank were not cleaned.