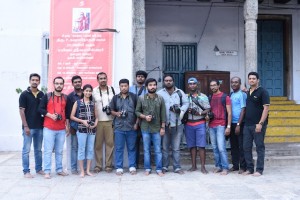 On 29th November, Nikon's school of photographers were seen actively going around Sri Kapaleeswarar Temple with their DSLR and SLR cameras.
The mentors guided young with tips on techniques of shooting pictures in the local condition – as and when they captured a shot around the temple.
Nikon conducts photography workshops for beginners as well as advance level users . It conduct photowalks in Chennai every month .
If you are interested in learning photography go to www.nikonschool.in or contact
R.Prasana – 9884878101
Reported by Shruthi Samyuktha / Student Reporter