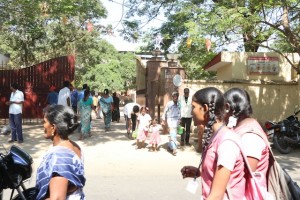 San Thome High Road and Kutchery Road witnessed traffic jams at noontime today as the rumor that bombs had been placed in schools spread fast and wide and many parents of students dashed to the campuses to get their wards out.
As students spilled out of St Bedes and St Raphael's ( photo featured here) and a few other schools in the school zone, traffic began to pile up and there was some chaos.
A priest-teacher of St Bede's said that while there was no confirmed news that the rumor of  bomb scare was indeed a serious threat he and his colleagues were in a  tizzy when parents began to ask for the wards to be let off from campus.
On Madha Church Road, parents of kids who study at St Anthony's Girls School pushed the school gates to get their wards out as quickly as they could.
Soon it was evident that the 'bomb' scare was a hoax and in many places, school children were seen hanging out with friends.