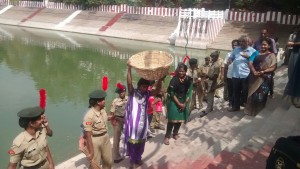 The cleaning of the Sri Kapaleeswarar Temple tank steps at Mylapore, conducted on Saturday, Feb 20, was completed in style.
Though the estimated time frame for this effort was four hours with 200 volunteers, the task was completed in just 100 minutes. And all this was made possible by the dedicated efforts of NCC volunteers from Presidency college. 40 boys and 20 girls not only cleaned the steps but also cleared all the garbage in record time. They were also helped by volunteers from the Sai Samithi.
The event was organised by MRWA (Mylapore Residents Welfare Association) in association with NGO Thuvakkam and temple officials.
—Reported by K. Viswanathan, secretary, MRWA