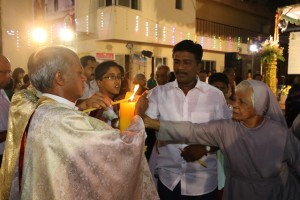 Archbishop Rev. Dr. George Antonysamy was the main celebrant at the 10 a.m. English Easter Mass at San Thome Cathedral.
Easter vigil Masses in English and in Tamizh were held at the cathedral campus on Saturday night, with the lighting of candles and blessing of water being the symbolic acts conducted during the Mass.
Easter vigil Masses were also held in other local churches.
This photo was taken at the vigil Mass held at Our Lady of Light Church, Luz.