At all local area polling booths, staff and police are giving the final touches and making sure everything is in place for the voting day, May 16.
Booths will open on Monday at 7 a.m.
The first photo here  shows the scene outside Sri Rajalakshmi Matriculation School at Mandavelipakkam this evening (May 15).
A pandal (temporary shelter) has been erected outside the school and five polling booths have been set up inside the school. Officials are currently putting up the list of contesting candidates and the posters which will direct the voters to their respective voting stations.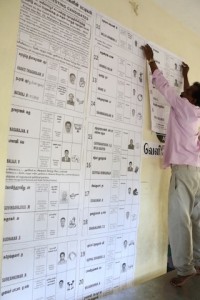 According to a police officer stationed there, the voting machines have arrived and have been secured. Five police officials will stay back overnight to guard the premises.
The school is located at 4, 5th Trust Cross Street, Mandavelipakkam.
Elsewhere too, final works were on at the booths – at some places the staff took time to paste the large sized posters that carry the names of all the candidates – there are 25 in Mylapore so one can imagine the size of the poster.
The second picture was shot at a booth at R A Puram this evening.