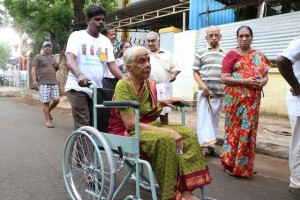 It seems to be a slow start to polling in the neighborhood as we made our first round of the area since 7 a.m.
Many seniors got to the booths early and were sene in the queue at 7 a.m.
The queues got longer at booths inside St Anthony's Girls School, Mada Church Road and at Rajalakshmi School in Mandaveli.
Many nuns who reside in convents on Mada Church Road cast their ballot at the booth here.
The sun has come out and the summer heat can be felt out on the streets and it may well be a hot day since there are no signs of the predicted showers.
Outside some booths, the security is tight; those without a valid ID cannot cross the 100mts line painted on roads leading to the booths.