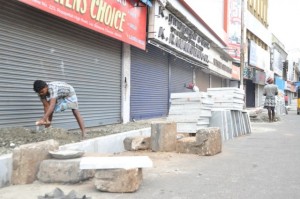 It may have had a quiet re-start but workers laying the new-design pavements in the Luz and Sri Kapali Temple zone have been going about their work every day since the election results were made public.
While pavement work is on off R K Mutt Road, along the temple tank side and in the mada streets, it is also on off Royapettah High Road's eastern side ( much of the west side pavement has been relaid though its sheen is lost in the darkness of the night and hawkers' encroachment.
Hawkers on this road chose to move off to allow the relaying work but those on Luz Church Road, alongside Nehru News Mart are said to have told the civic contractor that they would not shift a bit for the half-done work to be completed.
Most parts of pavements on Luz Church Road have been relaid sometime ago though the job has been below average in its execution.