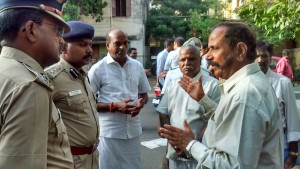 Will the new zeal in the traffic management system on Venkatesa Agraharam work? A question cynical Mylaporeans were asking when they found to their delight that the road which used to be blocked at the Sai Baba Temple size on Thursdays, the busy day for devotees here was open to traffic and the ride was smooth.
On Thursday, there was a posse of at least 25 policemen and women past dusk, managing the traffic of people and vehicles. Road median dividers were in place.
But nothing had been done to rid the pavements of dozens of hawkers nor of the encroachments of permanent shops opposite and along the temple.
The renewed action follows a on-the-spot meeting the Mylapore MLA, R Natraj had with Mylapore's police officers, led by DCP, V. Balakrishnan.
The MLA has said that even VIPs must not be encouraged to stop/park their cars outside the temple gate, which causes traffic jams.
But cynical Mylaporeans say that the police and Corporation must go beyond these measures and rid the hawkers and encroachers.
They also wonder how the temple is allowed to hijack public space – it has sunk iron poles on pavements to extend its roofing, built washrooms here and uses dividers to hijack street space.
Photo; R. Saravanan