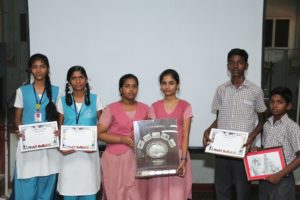 S. Aishwarya and M. Suganya of Rani Meyammai Girls School, R A Puram lifted the rolling trophy as winners of the annual Madras Quiz held for Tamil medium schools in the city in connection with Madras Week celebrations.
Despite the rain and grey skies, some 75 students checked into Lady Sivaswamy Ayyar Girls School on Saturday afternoon.
All of them took the written prelim round of 18 questions and four teams were chosen from them for the final round of the quiz.
Teams from Rani Meyyammai, St Anthony's Girls School, Mandaveli and P S (North) School, Mylapore were in the final round.
The quiz was conducted by Revathi R.
Mylapore Times supported this event and Indiska provided some of the prizes.