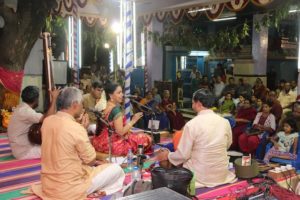 This is a festival special that keeps its date with the Sri Vinayaka Chathurthi celebrations in Mylapore.
The small temple on Warren Road ( Bhaktavatsalam Road) is first off the block with its week-long celebrations – religious and musical.
The temple hosts top artistes in the world of Carnatic music; on Tuesday evening, after the rain, it was Sudha Ragunathan in concert.
Concerts will go on till Sept 5 – that evening is Nithyashree Mahadevan's concert.
The festival is celebrated grandly here.