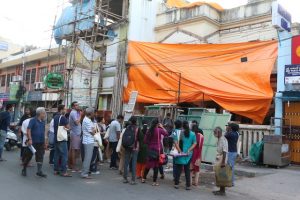 Adyar-based architect Tahaer Zoyab and his team who curated the ' Houses of Mylapore' Walk last Sunday say they are happy that as many as 35 people took part in it. This was part of the Madras Week event ( www.themadrasday.in)
The Walk, curated over  year ago and held in the past, explores the old houses and looks at the variety of local architecture of houses and places in Mylapore around the mada streets.
The participants were mainly Architecture students.
Sadly, they were witness to a few demoralizing sights like the tearing down of an old house next to Sri Karpagambal Mess on East Mada Street. ( refer photo)
This Walk is repeated on August 28 morning. Register for this. More info at – https://www.facebook.com/events/1049536035125018/