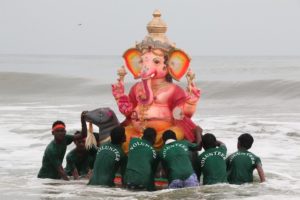 Since this afternoon, San Thome High Road has been a busy place.
A long procession of vans and carts transporting images of images of Vinayagar, both big and small are being taken to the seashore for immersion.
This procession will go on till well past 6.30 p.m., said local police.
While traffic moving to the Adyar side has had to go slow, the north-bound traffic was fairly smooth. The huge posse of policemen posted all along this main road ensured there were no untoward incidents and traffic jams.
The procession slowed down as the vans turned towards the sea at Foreshore Estate. Many groups came along beating drums and some people were dancing in the open vans.
The Foreshore Estate sea shore looked different – there were many tents for police and volunteers who channeled the immersion plans.
There were huge cranes to lift and drop the large sized images while volunteers took the smaller ones into the sea and dropped them there.
Volunteers wore Tees donated locally.
A huge number of onlookers on the beach took in the sights – many parts of the images immersed floated back to the shore. Some volunteers cleared those off.