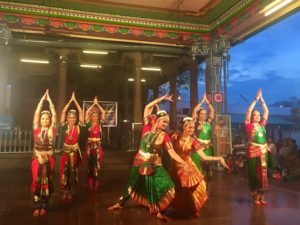 The students of Bharatanatya Kalalaya, Mumbai presented a dance performance on the weekend at the mantapam at Sri Kapaleeswarar Temple at Mylapore.
The theme for the performance was "Shivoham" and the items depicted both the benevolent and the fierce sides of Lord Shiva – Pushpanjali, Ananda Narthana Ganapati, Ardhanareeshwaram, Shiva varnam, Murugan Kautuvam, "Karpagavallinin" – a dedication to goddess Karpagambal by guru Geetha herself, a snake dance and Dakshayani – the dance ballet.
The occasion was graced by the renowned Carnatic music violinist Lalgudi Vijayalakshmi and by the senior Bharatanatyam guru Jayanti Subramanium.
The group's leader is guru Geetha Venkateswar, a disciple of guru Rajalakshmi Venkateswar who is herself a distinguished disciple of the renowned guru late K.N. Dandayudhapani Pillai.
Guru Rajalakshmi started Bharatanatya Kalalaya in Kolkata over 50 years ago. Over the last 20 years in Mumbai, under guru Geetha's leadership and guidance the institution has grown.
– Reported by Deepa Sundar