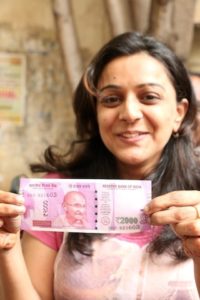 Demonetisation did not seem to have sent Mylaporeans into a tizzy. This morning, there were only a dozen people in the queues outside a few banks in the neighbourhood, keen to deposit the scrapped currency and get some hundred-rupee notes.
A queue was forming outside the Indian Bank branch on North Mada Street around 8 a.m. while at IOB's branch in San Thome, people were allowed to step inside the premises and form a queue though operations began at 9 a.m.
All ATMs though remained 'lifeless' – half-open doors and cash-less. In some places, the shutters were down.
At Mylapore Post Office, the staff said the office did not receive the new notes so many people went home disappointed.
As the morning progressed,  people who dropped into banks did not have to wait too long to get their job done – some took home the new Rs.2000 notes.
Most people carried Aadhar cards as proof of identity.
Bank staff said that currency will be stocked at the ATMs late tonight and they can be accessed on Friday morning, or even past midnight.