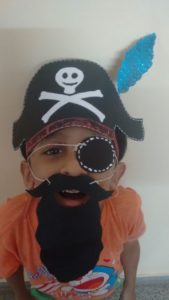 A five year old resident of Abhiramapuram, Vidan Pinto, has designed his own costume for Halloween. Vidan spent an hour to come up with a mask of a pirate.
A kindergarten student of PSBB school, Vidan believes in being self sufficient and has also done the modelling for the costume himself!
Halloween is celebrated by Christians in several countries on Oct 31 on the eve of All Hallows' Day. People remember the dead, including saints and martyrs, on this day. They also take part in other activities like trick or treating, playing pranks, attending costume parties, watching horror movies and telling scary stories.