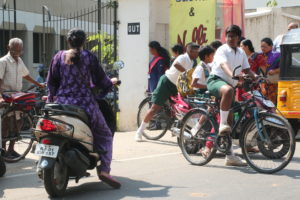 The protests in support of Jallikattu which have been going on for a few days  at Marina were this morning challenged by state police who surrounded the campaigners and asked them to leave the beach.
As the situation grew tense and miscreants set bikes and sundry items on fire in a inner road near the Marina.
Police had by then secured all roads leading to the Marina –   buses were stopped as were private vehicles.
Though the police had closed traffic at San Thome  and Mylapore's beach side zone, in Luz, Alwarpet, R. A. Puram, Mandaveli and Abhiramapuram, the traffic moved smoothly and it stayed the same way till the evening.
As the word of tension and vandalism spread, several schools in the neighbourhood shut down and asked the parents to come and pick up their wards.
At St. Anthony's School, Mandavelipakkam, P. S. School at R. K. Mutt Road, Mylapore and Chennai Corporation School at V. P. Koil Street, Mylapore, parents were seen crowding at the school gates  waiting for their children to come out.( Seen in the picture is the scene at M. Ct. M. School, Luz.)
There was also a report of violence at the police booth at T. P. Koil Street, Mylapore.
Later this evening, residents in colonies located off Pasumpon Muthuramalingam Salai, R K Mutt Road and Dr R K Salai staged dharnas at street corners but policemen restrained them.