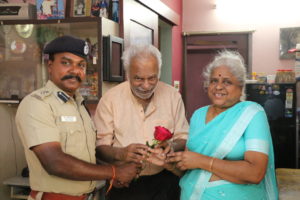 J. Rajagopal and his wife Aruna had a surprise visitor to their house this Valentine's Day. DCP of Mylapore, V. Balakrishnan, paid a visit to this couple's home on Kalvavivaru Street on Feb 14.
Rajagopal and his wife have been registered with the police as senior citizens. The local police check in on them everyday and on Feb 14, as an added bonus, they brought their chief. 'I am retired from active service and my wife is a home maker. We rarely go out of our house anymore –  the traffic is very thick outside our house and we don't feel safe venturing out by ourselves. So the DCP's visit was a nice break from our routine', says Rajagopal.
The police have been directed to keep tabs on senior citizens living alone. In addition to checking in on them daily, the police will also sign a book at the house of each person they visit. The seniors are also given a card with emergency contact information. A tollfree helpline, 1253, has also been setup to help such people in need.