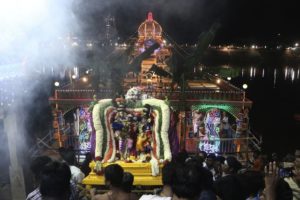 The annual float festival, Thai Poosam teppam was held at Sri Kapali Temple, Mylapore on three days – from January 31 to February 2.
On the first day – January 31, Sri Kapaleeswarar and goddess Karpagambal were taken on the float. Since the lunar eclipse was taking place in the early evening and lasted till about 8.30 p.m., the rituals and teppam began only towards 9 p.m.
As such, when the float did its three rounds in the waters of the temple tank there were only a few hundred people were on the steps of the tank to watch the rounds.
On the next two evenings, when lord Singaravelar was the focus the attendance for the teppam got better and bigger. But many Mylaporeans who attend the teppam said that the number was not as large as it used to be in the past.
Since the water in the tank was little, it is said that many dozen water tankers had pumped in water into the tank to increase the quantity of the water in the tank.
(( )) WATCH A VIDEO of the teppam at www.youtube.com/mylaporetv