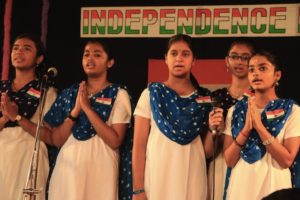 Communities across the  Mylapore neighbourhood celebrated India's Independence Day on August 15 in ways they felt comfortable, and some creatively too.
And this despite the wet morning, with the drizzle continuing into dawn.
The community in and around Justice Sundaram Road, in the Nageswara Rao Park zone invited a watchman of a local apartment to unfurl the national flag.
At the Abbottsbury complex of apartments on C. P. Ramaswamy Road in Alwarpet, the community chose to meet in the parking lot and a group of women sang songs of patriotism and independence, and included in the morning's concert was one song of poet-writer Bharathi. The women had taken time off earlier in the week to learn the songs for this occasion.
The community at Mithila Flats on Norton Road in Mandaveli got together in the morning to hoist the national flag on the terrace of a block here. G. Natarajan, secretary of the community's association says this is the 31st I-Day event that the community has held.
RAPRA, the community group for R. A. Puram held its own event with vocalist Aishwarya Sankar singing for the occasion.
Many local schools also had Independence Day celebrations on campus.
At Sir Sivaswami Kalalaya Senior Secondary School, the school management joined the teachers and students at the flag hoisting event on campus.