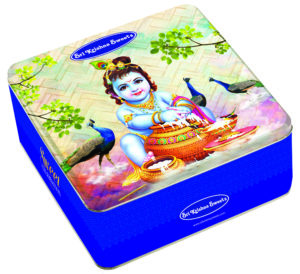 EATING OUT. FOODSTUFF.
SALE BY HOME CHEFS : Eat Pay Love presents 'Ministry of Home Chefs', a food showcase organised jointly by Munira Daniel of CrewPR and Batul Turab of Raven Claw Branding. Showcasing home chefs, home bakers and food joints with products directly from the makers' kitchen. Food ranging from desserts, confections, spreads to condiments, beverages and savouries will be on sale. On Sept. 7 & 8, 11 a.m. At The English Tearoom, Kasturi Ranga Road, Alwarpet. Ph: 9677249260.
JANMASHTAMI MENU: Mahamudra restaurant is holding a food fest for Krishna Janmashtami. The menu is specially curated with dishes from Mathura and Ambalapuzha. On till Sept.2 . At 117, Luz Church Road. Ph: 43535555.
FESTIVAL SWEETS BOX:
For Krishna jayanthi, Sri Krishna Sweets is selling a tin box that has s
weet seedai, salted seedai, thattai, 5-line kai murukku, groundnut burfi, therattipal, Mysurpa, ghee appam, adhirasam and aadhusha. ( photo here shows the box). Shoppers get free cow's butter, aval, jaggery and a book as a compliment. 
The special tin box is available at all Sri Krishna Sweets outlets on August 31 and on Sept.1 and 2
. Price – Rs.550. 
On Sept.2, Sri Krishna Sweets will serve hot 'akkaravadisal', a traditional speciality at its store on Dr. 
R. K. Salai Mylapore – from 9 a.m., till stocks last.
MUSIC
KERALA ROCK BAND PERFORMS : Rotary Club of Chennai Towers in association with Greater Chennai Corporation are raising funds to transform Chennai Corporation schools into a hi-tech campuses with smart classrooms and for their ongoing projects. Featuring Thaikkudam Bridge,  a Kerala-based music band. On Sep 7, 7 p.m. At Music Academy, T.T.K. Road, Alwarpet. For tickets call 72999 66666.
SPB SINGS AT THE ACADEMY : Pop and film music concert led by singer S. P. Balasubrahmanyam. Organised by Rotary Club. Featuring popular and evergreen songs from Tamil cinema. On Sept. 1, 6.30 p.m.  Music Academy, T.T.K. Road, Alwarpet. For tickets call: 7338863608.
NADASWARAM: Injikuddi E. M. Mariyappan and Kollengode R. Subramanian ( nagaswaram) with Villiambakkam V. M. Ganapathy and Swamimalai S. C. Gurunathan ( tavil) present a full concert at Raga Sudha Hall, Luz. Hosted by Parivadini and Naada Inbam. Sept.2, 6 pm onwards.
MISCELLANEOUS
FOOD PHOTOGRAPHY: Expert food photographer Dhruv Kotagi and executive chef Kalaisevan jointly present a food photography and styling workshop. Participants to bring smartphones or DSLR cameras. Fees: Rs. 5000, includes lunch & tea. Ph: 7824808014. On Sept. 2, 11 a.m. at Novotel Hotel, Chamiers Road.
QUIZ FOR SCHOOLS: Murugappa Madras Quotient Quiz for school students  of class 5 to 12, hosted by quizmaster Dr. Navin Jayakumar. On Sep 1, 1 p.m ( prelims). Final at 4 pm. At St. Bede's Auditorium, San Thome. Ph: 95000 72458 / 96000 05932.
TALK ON PANDYA  COINS: Tamil Heritage Trust presents a talk on 'Coinages of Pandya Country' (Sangam Period to 18th Century CE) by Abdul Rasul. On Sept. 1, 5:30 p.m. At Arkay Center, Luz.
FOCUS ON SANSKRIT: Colleges and educational institutions jointly celebrate 'World Sanskrit Day'. Sri Sri Sri Datta Vijayananda Theertha Swamiji of Mysore will preside and honour eminent scholars and address guests. Dr. Baldevanand Sagar and  Dr. P.C. Muralee Madhavan will speak on 'Importance of Sanskrit' in Sanskrit and English respectively. On Sept. 5, 4 p.m. At Madras Sanskrit College, Mylapore. Open to all.
CRAFT WORKSHOP FOR KIDS: Craft classes for children organised by Expressions Art Studio will be held twice a month. For children aged six and above.  Medium includes paper, clay, fabric, papier mache, glass and jute. At 75, 2nd Street, Karpagam Avenue, R. A Puram. Ph: 9444033348, 42067327.
 SHOPPING
KALAMKARI FABRICS : Sangeetha's Kalamkari Festival of Hyderabad has organised a sale – upto 50% discount on products. On Sept. 6 & 7, 10 a.m. At Luz House, 176, Luz Church Road, Luz. Ph: 9248025432.
WOMEN ENTREPRENEURS' SALE: MOOWES , an NGO for women entrepreneurs is conducting a sale – Indian wear, Kalamkari sarees, jewellery, bags and homemade products including pickles and podis. On till Sept. 2, all day. At C.P. Art Centre, Alwarpet. Ph: 9380034559.