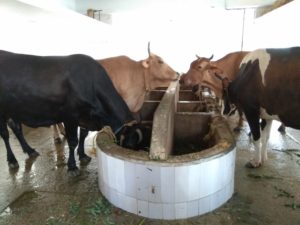 Donations to the goshala at Sri Kapaleeswarar Temple in Mylapore are welcome. You can donate cattle if you wish to, say temple staff.
At present, this goshala has 11 cows, 1 bull and 16 calves. All the 28 animals are well taken care of. The area is cleaned four times a day. Nutritious food like toor flour, urad flour, punnaku (residue of oilseeds), the skin of channa, hay, wheat husk, agathi keerai (an omnipotent spinach) is fed to them, says Thiruvarsamurthy, temple superintendent.
A veterinary doctor checks the animals every day, we are told. The milk from them is used for the abhisekhams throughout the day.
The dung is recycled as biogas which is used for cooking the food for the annadhanam served to people at this temple.
Every morning one calf is sent for the gopoojai at the temple. For mattu Pongal festival, a special deeparadanai takes place for them.
"Most of the animals here were donated, and we always welcome more donation," says Thiruvarsamurthy.