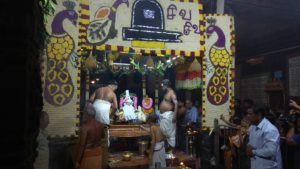 The Maha abhisekham, a ritual performed before reading the Lagna Patrika for Panguni Festival started at Sri Kapali Temple on Feb 15 at 5.30 pm. It will continue until 7.30 pm.
The chief priests of the temple are doing the abhisekham for Sri Somaskandar (a form of Lord Shiva with his consort Uma and Skanda) and Ambal.
The reading of Lagna Patrika will follow. Hundreds of devotees from various parts of Tamilnadu are gathering here to get the blessings of the deities.