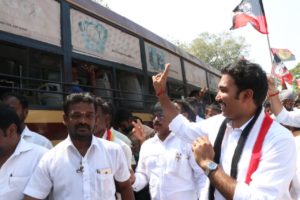 AIADMK candidate for Chennai South constituency Dr J Jayavaradhan rolled out his campaign this Sunday morning, early to beat the rising summer temperatures.
A fairly large number of AIADMK cadres made this caravan and long and noisy one. Jayavaradhan, fresh in the early part of the road show greeted people travelling by MTC buses, shook hands with people in cars and sweated it out well.
In the mass of AIADMK flags, there were a few flags of the allies – the DMDK and the BJP.
But overall, this was a AIADMK road show.