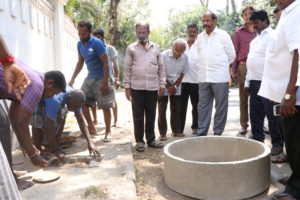 Mylapore MLA, R. Nataraj is leading a project to have rainwater harvesting wells sunk in streets/roads where floodwater rises when it rains.
The intent is to tap this water and recharge the ground of these areas.
On Wednesday, the MLA oversaw the work of RWH well being sunk in Vinayagam Street in Jeth Nagar in R. A. Puram.
The MLA has drawn up a list of 25 spots in the Mylapore area where these wells will be sunk. The work is executed by a NGO called Rain Centre.
The MLA is arranging for this projects funding.
Rain Centre's Sekhar Raghavan says that it takes about 4/5 hours to complete the sinking of one well. He wants residents of the area where wells are sunk to ensure cars and lorries are not parked on the mouths of the wells and that garbage isn't dumped around it.
Over a year ago, the MLA had said that 100 wells would be sunk in consultation with Metrowater.