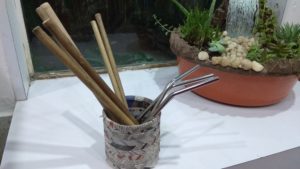 Goli Soda, a store at Bawa Road, Alwarpet that sells eco-friendly and upcycled products has recently introduced steel straws.
"People are keen on buying these steel straws after the plastic ban. The bamboo straws and the scrubs made of coconut coir are also in demand now," says Sanjoy Das, a staff at Goli Soda.
They have also introduced a range of plastic alternatives such as bamboo toothbrushes and eco-friendly terracotta bottles.
The steel straws are available in sets of two, four and ten. The set of ten is priced at Rs.699. The bamboo straws (set of 6) cost Rs. 599. The coconut coir (set of 3) is priced at Rs.160.
A Women's Day special discount of 15 % will also be on for all the Eco – Femme products from March 8 to 16.
The products can also be shopped online through their website https://golisodastore.com/.
The store will be open from 11 a.m. to 9 p.m. on all days at 11, Ashvita Bistro, Bawa Road, Sriram Colony, Alwarpet. Ph: 42031982.