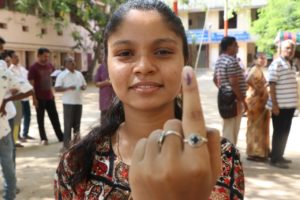 Polling has been brisk at most polling booths across Mylapore this Thursday morning as elections to the Lok Sabha entered polling day.
At many places, people lined up outside the booths well before 7 a.m.; some of them had completed their morning walk or exercises in open spaces. In places like Mandavelipakkam, where a few convents are located, a number of nuns and priests were seen heading to the local booths
Many others were keen to beat the heat; it has been a stuffy morning and the temperature is climbing.
In many places, the queues were filled with senior citizens. Many of them had to stand in the queue for over 15 minutes before getting into the booth room.
Outside the Vidya Mandir booth zone, among the tables party cadres set up outside the outlined zone was a table of Makkal Needhi Maia, party with young women and children manning the desks.
At a booth in Alwarpet, cadres of a party, without any party colours distributed water bottles to people in the queues.
In some places, voters said that poll officials demanded for voter slips so that they could easily locate the names in their list and make life easy – the EC has said the slip is not required. Obviously, the heat is getting on the polling staff.
< The Facebook page of Mylapore Times has photos and videos through the day.