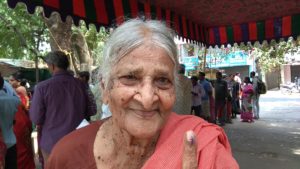 The polling started on a high note this morning in Mylapore.
Many people arrived early at the booths to cast their votes. 96-year-old Subbama made sure to vote at the polling booth in Greenways Road, R.A.Puram.
She said, "I like to vote. Hence, I came inspite of my walking difficulty."
Elsewhere at KVB Garden, Selvanayagi, a senior, was searching for her name in the electoral list from a long time. She said, "I have my own house here, and I have a voter ID. But my name is missing from the electoral list."
"I searched at all the possible booths, but my name is not there," she said.
Later, at around 5.50 p. m. she excitedly said, "I casted my vote. The polling officers found my name in the website and allowed me to vote."
At many booths, the seniors made sure to exercise their civic duty.
Wheelchairs and ramp facility was available at most of the booths.
J. D. Madan, a former car racer and activist casted his vote at St. Francis Xavier School, Alwarpet.
The 43-year-old resident of Demonty Colony, Alwarpet met with a major accident a few years ago due to which he became quadriplegic.
He said, "Police and everyone were very helpful. The polling counter was kept close to the wall. They moved it. So I could go in with my wheelchair. But, there was a step due to which I had to be carried everywhere. Also, last time there was a ramp. This time there was no ramp."
"The awareness to provide facilities for the disabled during elections has improved but the ramps could have been better," he adds.