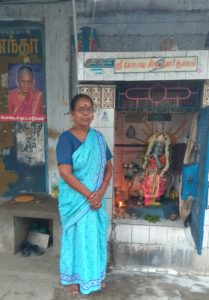 To honour the late Vadivuambal, who took care of the small shrine of Sri Krishna opposite St Isabel Hospital on Musiri Subramaniam Road, her daughter Radha and the local auto drivers have pasted her photo on the Luz autostand's old board, and they have maintained it poster/notice free.
A board below Vadivuambal's photo says, "Please don't paste notices/posters here."
Radha, who is now taking care of the temple, says,"My mother passed away in 2017 when she was 91 years old. Since she was taking care of the shrine since 1991,regulars look out for her till now. And they were the ones who suggested us to paste a photo of hers here."
The local students and the patients going to the Isabel hospital are seen praying at this shrine. Says a woman, "We pray here whenever we come to this hospital. And our wishes get fulfilled every time."
"We miss Vadivuambal, she was a lucky charm for us,"adds Meera, a college student.