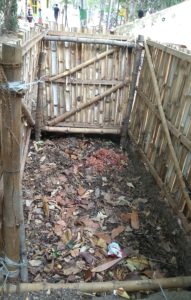 Weeks after the GCC erected compost structures at public parks; the composting doesn't seem to have started at some parks.
Two kinds of structures – bamboo structure for composting dried leaves and a structure made of cement rings for composting biodegradable waste were erected at all parks as a part of zero waste Chennai initiative.
But, now the dried leaves/biodegradable waste are just dumped in the bamboo structures, and the cement rings structure has turned into a garbage dump yard at other parks.
At Nageshwara Rao park, a huge pile of dried leaves is dumped near the compost yard, and the bamboo structure meant for composting leaves has only a few leaves and some plastic items.(Picture shows bamboo structure at Nageshwara Rao park)
At the public park off Lazarus Church Road, R.A.Puram, the nearby hotels, shops, and supermarkets have started dumping all kinds of papers and plastics along with the biodegradable waste.
Says a staff of a nearby supermarket, "The dustbin is far from our market, hence it is convenient for us to put our waste here."
Lakshmi, a resident of Mandaveli says, "The biodegradable waste composting structure is attracting a lot of flies, and the area has become smelly too. Better they can dump these wastes in the dustbin instead of ruining open spaces like parks," she says.