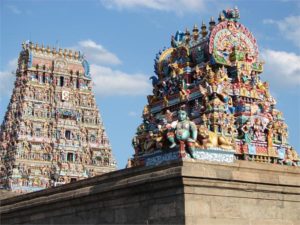 MISCELLANEOUS
MADRAS DAY TALKS
As part of the Madras Day celebrations a series of talks are organised by Madras Local History Group. On August 15, there are two talks. At 5.30 p.m., arts promoter Cleveland Sundaram will speak on 'Transporting Sabhas across the Atlantic'. The second talk is on 'Temples of Madras: ancient and modern' by Pradeep Chakravarthy. Starts 6.45 p.m.These are a part of a series of talks – at Arkay Centre, Luz. Open to all. More info at www.themadrasday.in
EVENING OF HUMOUR
Humour Club International will hold its monthly programme on August 11. Kavingar Nandalala will present 'Kathai Kathaiyam Karanamam'. At Mylapore Fine Arts Club. 4 p.m. Open to all. Contact : 9841532212
MUSIC. DANCE.
ON ALLIED RAGAS
Vocalist-guru Seetha Rajan will present 'Musical exploration series', a session which covers a few ragas with similarities in swara structure, but with distinct differences in their handling. This weekend, the focus is on Suddha saveri, Sama, Arabhi and Devagandhari on the first day and on Kedaragaula, Narayanagaula and Surati on the second day. At Ragasudha Hall, Luz. On August 10 and 11. From 10.30 a.m. to 12.30 p.m. Hosted by Naada Inbam. Open to all.
DANCE ON ADI SHANKARA THEME
As part of the ongoing Vardhanti celebrations of Sri Vidhusekhara Bharati Sannidhānaṁ, students of Natyopasaka led by Vanishree Ravishankar will prsent a dance production based on the story of guru Adi Sankara. Venue: Tattvaloka auditorium, Eldams Road. On August 10, 6 p.m. For details call 24328124 / 25 /26
DANCE FEST: DEVI IS THE THEME
Natyarangam, the dance wing of Narada Gana Sabha presents its annual, thematic Bharatanatyam festival. This year, it is called 'Devi Bharatham'. It starts on August 15. On the first day, guru Saroja Kameswaran and other artistes will be presented awards. At the five-day fest, solo dancers will perform on Devi-related themes. Preceding the recital, is a talk by scholar Dr. Sudha Seshayyan on the theme of the recital. Here is the line- up: Divya Sivasundar ( Aug.15), Meera Sreenarayanan ( Aug.16), Pavithra Bhat ( Aug.17), Praveen Kumar ( Aug.18) and Narthaki Nataraj ( Aug.19). Dr Seshayyan and R. K. Sriram Kumar are the resource persons.
At Narada Gana Sabha, T.T.K. Road. 6.30 p.m. daily, till August 19. Open to all.
DANCE ON BHARATHI'S SONGS
Sevalaya has organised a dance recital to mark Independence day. Titled 'Veezhveen enna Ninaithayo', the recital features Nandita Krishna and her troupe, the Pandyas, present the songs of Subramanya Bharathi. On August 14. At Narada Gana Sabha, T.T.K. Road. 6.30 p.m..
WORKSHOPS
GANDHIAN VALUES
In memory of T. D. Tirumalai, former secretary of Alwarpet-based Gandhi Peace Foundation, a workshop on 'Satyagraha lifestyle for the youth of today' will be held. Books will also be released on this occasion. On Aug 10 morning. At 332, Ambujammal Street, Alwarpet.
ICE CREAMS
Frangipani Culinary Expressions presents a workshop on ice cream making. This includes making 6 flavours of ice cream and 6 types of sauces. On Aug.10. At Crescent Street Boat Club Villa. 11 a.m. For details call 9962048088 / 9962599872. Paid event.
NEGATIVE WATERCOLOURS
Madhumika will hold a workshop on Negative Watercolour painting. On Aug.3. At the Madras Art Store, Mookambika Complex, C. P. Ramaswamy Road. 2.30 p.m. – 5.30 p.m. All materials provided. Prior registration is required. Contact 97909 95771. Hosted by Hindustan Trading Company.
SHOPPING
AROMA OILS, CANDLES, AGARBATTIS
Giri Trading Agency is hosting A Fragrance Festival. A wide variety of fragrant incense sticks, aroma oils, candles, aerosols and pocket sprays are showcased here. The exhibition-sale will be on for a few weeks. At 14, Kapaleeshwarar Sannidhi Street, Mylapore. 10.30 a.m. to 8.30 p.m. Contact: 24640376, 24642530.
FABRICS WITH AJRAK PRINTS
Ajrakhpur Prints, an exhibition of kurtas, dresses and saris designed and curated by Arundhati Menon will be held from August 13 – 30. Ajrakh is said to be one of the oldest techniques of resist printing using natural dyes as Indigo and madder and is distinguished by its colour and its complex geometric and floral patterns. At Samasta store, 29 C. P. Ramaswamy Road. For details call 9840342842.
WEAVERS' SARIS, FABRIC
This is a sale of Gandhigram, founded in 1947 in Dindigul along Gandhian values; to make services available to rural areas and to encourage their skills.you may want to check out – it is on till August 11 at the C. P. Art Centre, Alwarpet.
It showcases saris, yardage, duppatas and stoles made by weavers of Tamil Nadu. There are also naturally-dyed fabrics on sale here. Eco products too will be added to the shelves. Open all day.
This event marks 150th birth anniversary of Gandhiji.