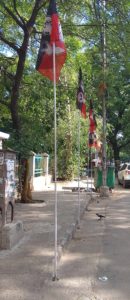 Due to a ban on hoardings and flex boards, political party members are erecting a number of party flagpoles for a marriage function.
On Sept.16, the AIADMK party volunteers erected at least 20 flag posts at C.P.Ramaswamy Road, Alwarpet, which they said was for a marriage function in the family of the party's supporter.
"Usually, we erect banners for functions, now since banners are banned, we are erecting party flag poles for the function," said a party volunteer.
Chennai Corporation removed a number of banners after a young woman lost her life on Sept.12 as she came under the wheels of a water tanker after an illegal banner fell on her.
Earlier this year, the Madras High Court issued orders to Corporation officials to remove all illegal flagposts and take action against those erected at public places without permission.
However, people say local officials turn a blind eye towards it. This evening, Raghavan, a resident of Adyar who was commuting on this road said political parties continue to encroach roadsides, and public spaces affecting the pedestrians and motorists. "Like banners, flagposts could also pose a serious danger and injure the public," he said.