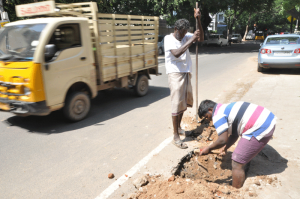 Rain Centre, Adyar says that it has enough civil contractors on its list who can construct rainwater harvesting systems the way they should be
Much of the Centre's work has been in the south Chennai area and Rain Centre's Sekhar Raghavan says that his men are reliable and that at any given time, they are working on three or four projects.
Sekhar says that the biggest project, done in the public space has been in R. A. Puram. He also collaborates with Chennai Corporation when asked to undertake RWH works in Mylapore funded by private people.
Sekhar has been in the RWH space for nearly three decades now. You can call him at 96770 43869 ( 10 am to 6 pm).
Photo used here is from MT file and for illustrative purpose only.