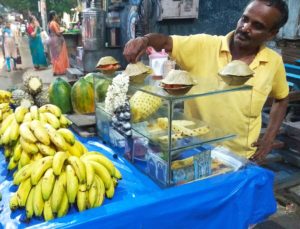 At a time when single-use plastics have flooded the market despite the ban, Balashankar at R.H. Road sells fruits in an eco-friendly way – in donnais.
Every evening, since the past 25 years, he says, he has been selling fruits near Sanskrit College here.
"I shifted to donnais (for serving) and old newspapers (for parcel) a few months ago after I understood the harmful effects of plastics," says Balashankar.
Readily made donnai bowls filled with cut pieces of papaya, pineapple or a mix of fruits are available at his pushcart. "One can buy from his shop without fear of contamination as he covers the bowl with another donnai and cleans and cuts the fruits in a hygienic way wearing hand gloves, " says Shivali, a college student who is a regular here.
"Though I have to spend Rs 50 per packet of donnai (small size) which contains less than 30 pieces and buy hand gloves daily, I use them as I want to give my customers a quality product," says the 45-year-old resident of Royapettah.
He can be seen near Sanskrit College in the evenings from 5 p.m. to 9 p.m. A donnai of fruit is priced at Rs.20.