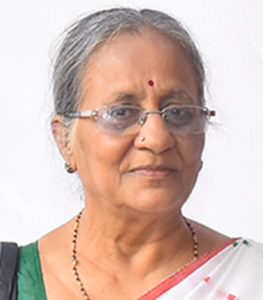 P. Geeta, a senior teacher of Hindi and economics who retired from P. S. Senior School, Mylapore passed away on Sept. 3 morning in Bangalore.
'The flame has burnt so long, Let it now die slowly. The dying completes the circle, so let the flame die slowly' – wrote Geetha, in her book 'The little book of love and gratitude". Geeta was a teacher at P. S. Senior from 1982 to 1993: she passed away after making peace with cancer.
Geetha left an indelible mark on each and every one of her students. With an MA in economics from Benaras Hindu University, as a Hindi language and economics teacher, she wrapped all her students in a blanket of love, care and compassion. Very disciplined, yet never a harsh word, always kind, yet made every child fall in place, Geetha is remembered by students with utmost fondness.
Having spent her childhood in Chittaranjan, West Bengal, where her father was posted in the Indian Railways, she grew up to be proficient in several languages including Hindi, Bengali, English and Thamizh. She was well versed in Rabindra Sangeeth and composed poetry in English and Hindi with commanding ease.
A life-long teacher, starting at the age of 20 in Chittaranjan, and continuing at Sankara School, Adyar after her wedding, she moved on to P. S. Senior. She was the writer of all the Hindi plays staged during the Annual day celebrations, during her tenure at both schools. While at P. S. Senior, she became a certified Girls' Scout teacher and eventually the District Guide Captain for South Madras. She inducted many young children into the Scout and Guide programme, including illustrious and highly decorated officers of the Indian army.
Her students have gone on to become successful doctors, lawyers, chartered accountants, engineers and scientists working all over the globe. Her fellow teachers recall her dedication, friendship and tenacity in the face of problems, as lessons taught by her, just by being herself. She had recently met the batch of 1993 at their 25th year Re-union.
Geetha's motto was to love all and give her best to everyone around her selflessly. She was a kidney donor to her husband, fostered a daughter Renuka, who unfortunately passed away due to cancer and then she raised a foster grandchild too. She had a great work ethic, always busy with students, taking on additional responsibilities for her school, preparing question papers, and even after retirement, worked as a translator for an online service for 11 years.
Social media carried many tributes from Geeta's students. Jayashree Arvind said; 'She was the best Hindi teacher. She penned all her thoughts in a book.'
Said Sripriya Sridharan: 'Geeta Miss always had a positive outlook. She was multi talented and very compassionate, and always cheerful. Even when she knew that she had only a few more months to live, she wrote a lovely poem mocking death and the cancer that was slowly taking her away from all of us. She always made small, delightful mementos for her students and acquaintances, with her own hands.'
The Class of 1993 of P. S. Senior put out a Tribute advert in The Hindu on Sept.4, saying – Mrs P. Geeta led a life filled with compassion and selfless service.
Said ex-armyman and school alumni Shankar Vembu on his FB page; 'She was more than a teacher to me and to many of my classmates and school mates. She encouraged me to join the armed forces. She was special.'
She is survived by her daughter Chitra (Rutgers University, NJ, USA) and her son Jayanth (Bangalore). Condolences can be sent to Jayanth L. Narayanan (98459 90910 or email: tollshrivatsa@gmail.com)
– Input for this tribute is from Ramya Mani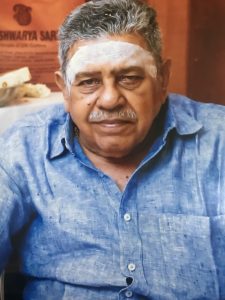 84-year-old S. V. Sankaran, a veteran in the Thamizh theatre world passed away on Sept.1. His family said the cremation was held the same day and that his eyes were donated to Sankara Nethralaya.
Sankaran did not allow neither his handicap of a physical disability nor his age stand in the way of his passion – theatre.
He had many roles to play with one of the city's premier theatre groups, Viveka Fine Arts Club that featured among others, 'Cho' Ramaswamy. Later, he was its stage director.
The family's contact – 99401 55004 / 044-24959766.