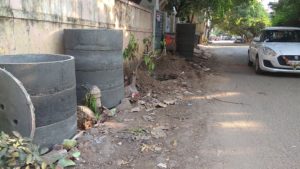 The local Chennai Corporation unit of ward 123 has finally taken a step to address the waterlogging at Abhiramapuram First Street, Mylapore.
For long, whenever it rained, the residents of this street have been facing the issue of water stagnation combined with the poor condition of the road.
A few days ago, the Corporation's contract workers have dug two places on this street to construct a recharge well and a collection chamber.
Arul Maran, the AE of ward 123 says, "Apart from recharge well, we will build a small collection chamber (2 ft by 2 ft) that would be connected to the main stormwater drain at Dr.Ranga Road. Meanwhile, as this road is set for relaying in a few months, we will do temporary patchwork and fill the potholes."
Now resident Giridharan Kesavan is hopeful that at least the issue of waterlogging will get solved soon.