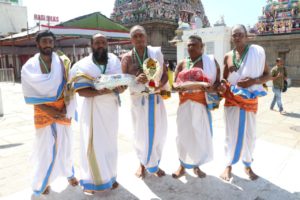 If there was one big disappointment related to the visit of Chinese president Xi Jiping it had to do with an effort made by Sri Kapaleeswarar Temple, Mylapore.
The poorna kumbam that priests were to present to Xi on Friday afternoon at the airport on his arrival did not end in the honour that it carries.
It is said that while Xi did stop where the temple priests were standing with offerings in their hands, the interpreter in Xi's team doesn't seem to have known much or bypassed the symbolism behind the presence of the priests and what they had to offer the guest.
So the priests could not go through the process they had gone there for.
Considered the highest honour presented to leaders as per Hindu rituals, the traditional poorna kumbam, is a silver vessel filled with holy water and decorated with mango leaves and coconut topping.
The priests had left Sri Kapali Temple before noon by car to take their place at at the arrival space in the airport campus but must have been crestfallen when they could not go through their presentation.
Xi is a Communist.