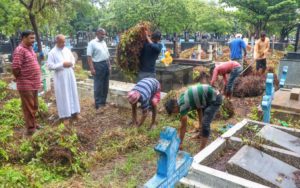 Christians will observe All Souls Day on November 2, a day to recall those who have passes away in the family and to pray for them.
On this day, families also visit cemeteries where their family membered are buried and pray. In the local area, the Quibble Island cemetery and the Chennai Corporation cemetery on St Mary's Road, off Jeth Nagar will host special prayer services for the departed.
This past week, the priest and community leaders of Our Lady of Guidance Church in R A Puram supervises the cleaning of the Corporation cemetery for the All Souls Day event. The church manages this graveyard.
At both cemeteries, space is at a premium now and the civic body has been asked to revise rules related to reuse of graves.