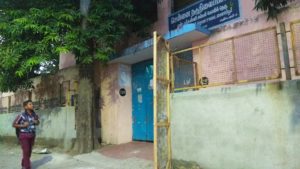 The Chennai Corporation Middle school at Ramakrishnapuram, Mylapore had to deal with a recurring nuisance – of tipplers using the school's campus to sit down after dusk and drink well. Bottles and plastic sachets were often left behind after the drink. Even the smell of alcohol would hang in the air when the school opened for classes every morning.
The nuisance took place because the school did not have a proper compound wall.
Now, a NGO has built a wall and the school teachers hope the campus will be protected.
The NGO, Varun Arakattalai recently constructed the wall and put up a metal fence.
Says Anthony Kavitha, Head Mistress of the school which is located in this colony that is close to the Kutchery Road bridge over the Canal, "We faced a lot of difficulties because of people drinking here at night."
As the TASMAC liquor sales shop is closeby, Raju, the watchman of the school says men found this space convenient to drink. "Every morning a dozen alcohol bottles and foodstuff would be lying here. It used to be worse on Saturdays and Sundays," he says.
Varun Arakattalai is an NGO of Radiance Realty Developers Ltd that focuses on improving the lives of underprivileged children, youth, women, and communities.