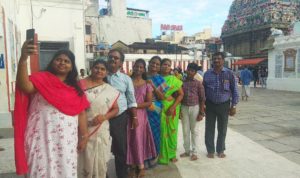 New Year's Day saw a huge crowd at the local temples in Mylapore.
Wearing traditional dresses, people from across the city visited temples including Sri Sai Baba Temple and Sri Kapali temple.  Many were busy taking family selfies in the backdrop of temple's gopuram.
The lunch service at hotels like Nitya Amirtham and Vetri Vilaas was on till about 4 p.m. People in large numbers also dropped in here to feast on the special food that was offered by these hotels.
At Venkatesa Agraharam Road near Sai Baba temple, dozens of hawkers sold a variety of items ranging from vegetables and fruits to toys and panjumittai (cotton candy) for children.
Elsewhere at the Marina, children enjoyed spending time at the beach.