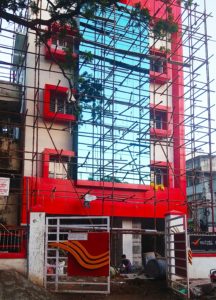 For the past few weeks, the construction of a new building for Mandaveli post office is on. It is located at the junction of R.K.Mutt Road and Mandaveli Street adjoining Mandaveli market on one side.
Now, four floors have been built. And it's outer walls are fitted with red and white coloured slabs.
However, the construction workers at the site say the office does not have a lift facility. Hence, many feel people, especially seniors might find it difficult to access the higher floors.
Some Mylaporeans also believe there is a possibility of R.A.Puram post office merging with this office, as its current location near Mandaveli Bus depot is marked by the Chennai Metro Rail Limited (CMRL) for phase 2 project.
Writes C.R.Balaji, a Mylaporean in a Facebook comment, 'R.A. Puram post office near the Mandaveli Bus Depot may be shifted here (Mandaveli post office) and the operations might be combined.'
However, there is no official confirmation from the Mandaveli post office regarding this.
Said a worker, "The construction of the building will be completed within two weeks."