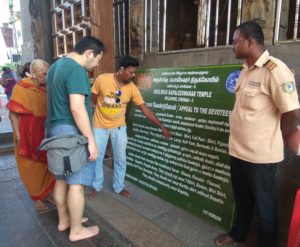 Sri Kapaleeswarar Temple in Mylapore has started enforcing the dress code for people visiting the temple.
A few days ago, a notice explaining the dress code was placed at the eastern entrance of the temple. Now, a security personnel has been posted here to instruct people to follow the rules.
Some tourist guides are also informing their clients about the dress code so the guests can be properly attired for the temple tour.
On Friday, devotees including foreign tourists who had worn short trousers / shorts were politely stopped at the extrance by the security personnel. Some of them later visited the temple wearing dhotis.
Said the security personnel, "Foreign tourists are willing to follow the dress code. But some local people keep arguing and asking why such a rule is being imposed."
Some people suggest that a counter at the temple gate can arrange for veshtis and long skirts for tourists to wear for the temple tour so that they don't have to go back disappointed when they drop by.